Organic Powder Extract Premade Zipper Bag Filling Packing Machine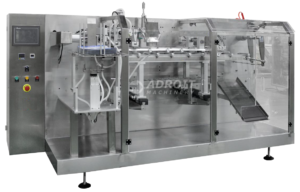 Adroit Machinery is a reputable manufacturer specializing in the production of high-quality machinery for the Pharmaceutical, Food & Beverages, Pesticides Processing, and Primary packaging industries.
Our Organic Powder Extract Premade Zipper Bag Filling Packing Machine is designed to provide efficient and precise packaging solutions for various powder products. With its advanced features and versatility, this machine is a valuable asset for your production line.
Application:- 
Our Organic Powder Extract Premade Zipper Bag Filling Packing Machine is suitable for packaging a wide range of powder products, including but not limited to:
Corn flour

Spices

Milk powder

Coffee powder

Medical powder

Chemical powder

And more
Optional Bag Types:-
This machine is compatible with various premade pouches, giving you the flexibility to choose the most suitable packaging for your products. It supports different bag types, such as:
4 side seal bag

Doypack bag with zipper

Standup bag

M shape gusset bag

And more
How we can benefit your business​
Discuss your unique packaging needs, and let Adroit Machinery revolutionize your production line. Trust us for superior quality, advanced technology, and outstanding performance.​
Main Machine Features:-
Different machine models are available to meet the requirements of various premade bag sizes.

The main machine structure can be customized to accommodate different bag shapes, including doypack zipper bags, 4 side seal bags, stand-up bags, irregular bags, and more.

The machine features multiple working stations to facilitate a fully automatic process, including bag pickup, date printing, bag opening, filling, bag arranging, sealing, and output.

Equipped with an upgraded PLC control system, the machine offers easy operation through a touch screen for convenient parameter setting.

The machine can be equipped with different metering systems, such as a multihead weigher, liquid pump, auger filler, or bucket chain, to cater to the specific requirements of different powder products for filling and packing in premade pouches.
Parameter:-
Choose from different models of the Organic Powder Extract Premade Zipper Bag Filling Packing Machine, each designed to meet different packing sizes and production demands.
Model
AM-210
AM-260
Bag Width*
90 to 210mm
150 to 260mm
Bag Length*
110 to 330mm
150 to 400mm
Packing speed**
Up to 40 bags/min
Up to 40 bags/min
Power
4KW 50Hz
4.5KW 50Hz
Voltage
440V
440V
Air consumption
0.5m³
0.7m³
Suitable to fill
Liquid, Powder, Granule, Paste with different filling system
Station*
6 to 8
Type Of Pouch
Premade pouches Three Side Seal Stand-Up Pouch Zipper Pouch Spout pouch
Material
Product contact area is Stainless steel [SS304/SS316] Other area is Stainless steel, Aluminum etc. Lower structure inside is mild steel with painted
Note: Machine parameters can be customized according to specific packing requirements.