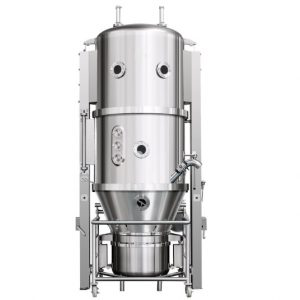 From 5 kgs to 500 kgs Model
Fluid Bed Dryers (FBD) are primarily used in almost all chemical, pharmaceutical, food, dyestuff and other process industries to dry materials by fluidization with hot and / or dehumidified air, which creates a turbulence in the wet product (not totally liquid) while flowing through it.
A model with complete automation and PLC, automatic bag shaking and with MIMIC is also offered. The drying time depends on various factors such as physical properties of material, moisture content, type of moisture (free or inherent or water of crystallization), drying temperature etc. For example, the crystalline product can be dried faster than amorphous product containing same percentage of moisture at same temperature.
Salient Features: