Automatic Wireless Glove Integrity Tester
Adroit Wireless Glove Leak Tester GIT-W is designed for testing integrity of gloves and its sealing with glove port used in various applications. The Gloves are leak tested under the pressure between 500 – 1000 Pa (as per ISO 14644-7). Glove leak tester can be used for both positive and negative pressure isolator either at rest or in operation.  Advanced and fully automated glove leak testing system, according to cGMP, with pressure decay measurement for isolators and RABS in the pharmaceutical industry.
The system consists of Wireless with Wi-Fi containing control and display system with storage space to contain plugs for various port sizes.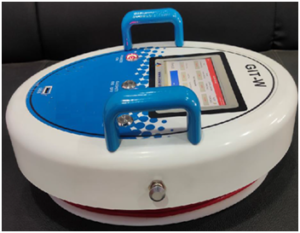 | | |
| --- | --- |
| Test pressure | 750 pa (1000 pa initial acceptance test as per ISO-14644-7) |
| Stabilization pressure | 750 Pa (500 to 850 Pa) |
| Inflation time Approx. | 3 to 6 Min. |
| Pressure stabilization time | As per guidelines |
| Leak test time | As per guidelines |
| Air Pressure | Inbuilt pump |
| Power supply | Inbuilt Wireless power battery |