Premade Pouch Pick Fill Seal Machine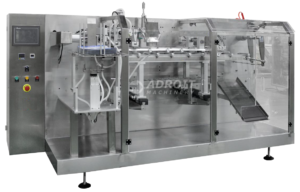 Machine Description: –
Preformed pouches are stacked in a bag magazine. This machine automatically picks up the pouch from the magazine, opens the pouch, receives product from a dosing machine and seals the pouch. This versatile pouching
machine can be configured for a variety of pouch styles like Three Side Seal, Doy stand up pouch & Zipper pouches.
It can pack pouches of various sizes. Pouch size changeover is easy and quick.
Model
AM-210
AM-260
Bag Width*
90 to 210mm
150 to 260mm
Bag Length*
110 to 330mm
150 to 400mm
Packing speed**
Up to 40 bags/min
Up to 40 bags/min
Power
4KW 50Hz
4.5KW 50Hz
Voltage
440V
440V
Air consumption
0.5m³
0.7m³
Suitable to fill
Liquid, Powder, Granule, Paste with different filling system
Station*
6 to 8
Type Of Pouch
Premade pouches Three Side Seal Stand-Up Pouch Zipper Pouch Spout pouch
Material
Product contact area is Stainless steel [SS304/SS316] Other area is Stainless steel, Aluminum etc. Lower structure inside is mild steel with painted
Note:  *we can give as per customer requirement.
            **As per filling range and product.
Basic Machine Features: –
Stainless Steel Construction
Simple, Clean and Robust Design
Pouch Pickup by Vacuum Suction Cups
Pouch Detection before Filling
PLC Controlled Functionality
Digital Temperature Controller
Easy & Quick Pouch Change Over
Meet Electrical & Safety Standard