Automatic Doypack Packing Machine for Premade Pouch with Zipper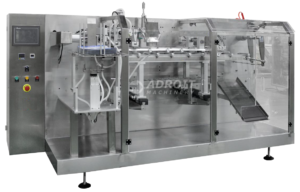 Welcome to Adroit Machinery, the leading manufacturer of top-quality machinery for the Pharmaceutical, Food & Beverages, Pesticides Processing, and Primary packaging industries. We take pride in introducing our state-of-the-art Automatic Doypack Packing Machine for Premade Pouches with Zipper. This exceptional machine automates the entire process of feeding, weighing, bag opening, filling, sealing, and date printing, ensuring efficient and reliable packaging of granule products.
Main Function:-
Our Automatic Doypack Packing Machine excels at handling granule products, seamlessly performing crucial tasks such as feeding, weighing, bag opening, filling, sealing, and date printing. This fully automated process eliminates manual labor, increases productivity, and maintains consistent packaging quality.
Application:-
The versatility of our machine makes it suitable for packing various granule products, including dry fruits, nuts, beans, snack food, candy, biscuits, seeds, pet food, chemical particles, and more. With its wide range of applications, our machine caters to diverse packaging needs within the granule product industry.
Optional Bag Types:-
Our Automatic Doypack Packing Machine is compatible with different premade pouch types, offering you the flexibility to choose the ideal packaging solution for your products. It effortlessly handles 4 side seal bags, doypack bags with zippers, standup bags, M shape gusset bags, and other popular bag types, providing you with versatility and convenience.
How we can benefit your business​
Discuss your unique packaging needs, and let Adroit Machinery revolutionize your production line. Trust us for superior quality, advanced technology, and outstanding performance.​
Machine Description:-
Weigher Metering System:
To ensure accurate measurement and precise packaging, our machine offers a variety of weigher options. You can choose the most suitable weigher for your specific product requirements, ensuring consistent and reliable packaging results.
Main Machine Process:
Our Automatic Doypack Packing Machine follows a well-defined process, guaranteeing efficient and seamless packaging. From bag pickup and date printing to bag opening, filling, bag arranging, sealing, and output, each step is meticulously executed to ensure optimal productivity and quality.
Main Machine Features:-
We offer different machine models to accommodate a wide range of premade bag sizes, ensuring that you find the perfect fit for your packaging needs.

The main machine structure is customizable, allowing for the handling of various bag shapes, including doypack zipper bags, 4 side seal bags, stand-up bags, irregular bags, and more. This customization ensures precise and reliable packaging for different bag types.

Our machine features multiple working stations to facilitate a fully automatic process. With dedicated stations for bag pickup, date printing, bag opening, filling, bag arranging, sealing, and output, our machine ensures a smooth and uninterrupted packaging process.

Equipped with an upgraded PLC control system, our machine offers user-friendly operation through a touch screen interface. This interface enables easy parameter setting and monitoring of the packaging process, enhancing control and efficiency.

The Automatic Doypack Packing Machine can be equipped with different metering systems, including multihead weighers, liquid pumps, auger fillers, or bucket chains. This versatility enables precise filling and packing of various granule products in premade pouches, meeting diverse packaging requirements.
Parameters:-
To meet different packing sizes and requirements, we provide various models of the Automatic Doypack Packing Machine. Please refer to the following parameter options:
Model
AM-210
AM-260
Bag Width*
90 to 210mm
150 to 260mm
Bag Length*
110 to 330mm
150 to 400mm
Packing speed**
Up to 40 bags/min
Up to 40 bags/min
Power
4KW 50Hz
4.5KW 50Hz
Voltage
440V
440V
Air consumption
0.5m³
0.7m³
Suitable to fill
Liquid, Powder, Granule, Paste with different filling system
Station*
6 to 8
Type Of Pouch
Premade pouches Three Side Seal Stand-Up Pouch Zipper Pouch Spout pouch
Material
Product contact area is Stainless steel [SS304/SS316] Other area is Stainless steel, Aluminum etc. Lower structure inside is mild steel with painted
Note: Machine parameters can be customized according to your specific packaging requirements.